Oral Hygiene Therapy
Introducing Emma-Kate Hanson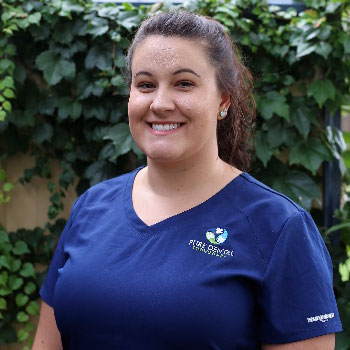 Our Oral Hygiene Therapy department is the backbone of the preventive side of the practice, which we have built up since beginning in December 2017. Prevention and dentistry go hand in hand for a wide range of situations. For anxious patients, prevention decreases the activity of disease processes and hence the need for dental treatment; the health side of dentistry has been proven over and over with medical Doctors now referring patients for a dental assessment to decrease the severity of their patient's illness'.
OHT's can also free up the dentist to carry out the really complex side of dental treatment while they look after the regular active maintenance and prevention side of dentistry. This means you don't have to wait so long to get an appointment with Dr Nicola to carry out your complex treatment plan if Emma-Kate is looking after your basic dental treatment needs.
Traditionally, OHT's looked after the children of the practice but over the last couple of years the scope of the OHT's has increased as the availability of dentists has decreased. They are now fully trained in the provision of dental examinations, soft tissue examinations, simple and advanced periodontal (gum) care, simple restorations and orthodontic assessment on all ages. OHT's will get their own Provider numbers in June 2022 which means they are independent practitioners.
Emma-Kate undergoes regular mentoring sessions with Dr Nicola so the high standards of prevention and restorative treatment will be carried throughout the practice to maintain our patient's confidence. We will also have an open-door policy so advice and assistance can be requested at any time.

Oral Hygiene Therapy | (07) 4646 2512