Meet the Team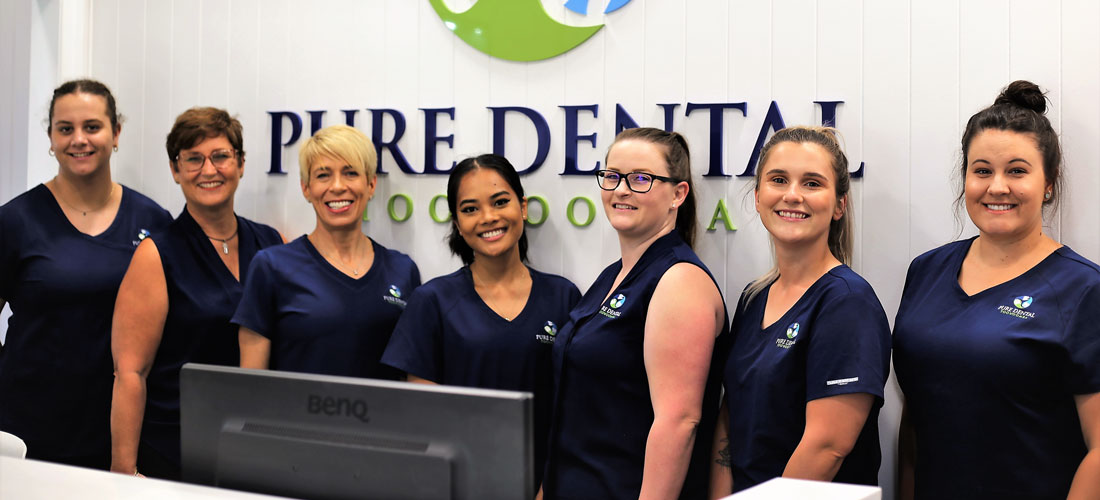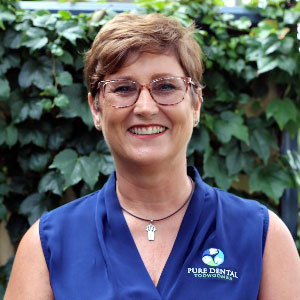 Julie – Practice Manager
Julie joined Pure Dental Toowoomba as our Practice Manager in October 2021. Having qualified as a Dental Assistant in 1982, Julie has an extensive amount of background in Dental Business, HR and Accounting.
Formally from the UK, Julie made the move to Australia with her family in 2007. Initially residing in Perth, WA, Julie, Steve and Dilly dog made the move to QLD in October 2021.
Julie is an asset to Pure Dental Toowoomba with her extremely positive attitude and her strength in promoting strong team spirit. All the team have benefited from her joining the practice.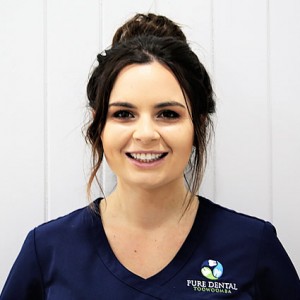 Thea
Thea is Pure Dental Toowoomba's Senior Dental Nurse. Thea has been with Pure Dental since the early days and has been instrumental in helping Nicola in building the practice to what it is today.
Thea has two beautiful children, Yani & Sophia who take up most of her free time along with their pet lizard Spike!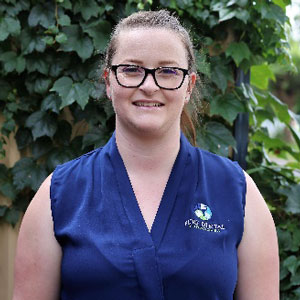 Karleigh
Karleigh joined the Pure Dental Team in November 2021. Karleigh is very experienced in the dental industry and is competent across all areas including dental nursing and administration. Karleigh is leading the front office team following Sammie's maternity leave.
Karleigh has a little boy Thomas who has just turned one, and is getting married to her long term partner, Kyle, in October 2022.
Karleigh has quickly integrated into the Pure Dental Team, quickly embracing our ethos of excellence in patient care.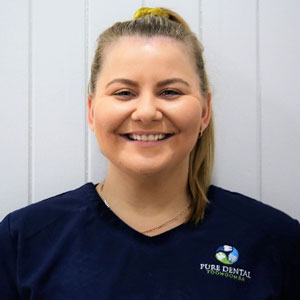 Sammie
Sammie has been with Pure Dental Toowoomba nearly since its beginning! She has been a huge contributor to the success of the practice with her bubbly personality; her excellence in patient care; her attention to detail and her business skills.
Sammie has recently just given birth to her first child, Peyton, and is currently off on maternity leave. We all miss her around the place and are looking forward to her return.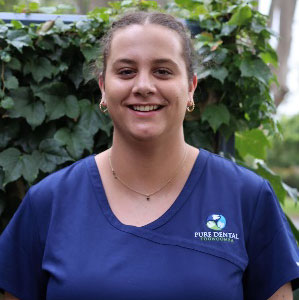 Georgia
Georgia joined Pure Dental Toowoomba in October 2021 following Brooke's departure to Townsville. Georgia has been a huge asset to our team, excelling in her role as Dental Nurse in Dr. Nicola's rooms. Georgia's photographic memory enables her to pick up procedures and knowledge very quickly making her indispensable.
Outside her full-time role as Dr. Nicola's nurse, Georgia is studying a Bachelor of Biomedical Science (Hons) at the University of Southern Queensland. Georgia's long-term goal is to be a Medical Research Scientist.
In her limited downtime, Georgia is nurturing her dog Bear and five Guinea Pigs, Louis, George Costanza, Harvey, Snoop Dog, and El Chapo.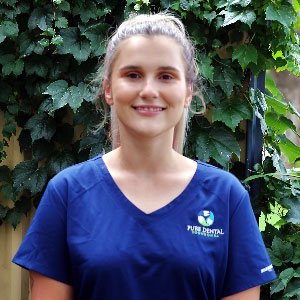 Emily
Emily has been with us at Pure Dental Toowoomba for almost a year and has found an absolute passion for dentistry. Whilst starting as a sterilization and oral hygiene therapist nurse she has recently been promoted to work alongside our new dentist, Dr. Helene Benadie. Emily embraces all facets of the Pure Dental Ethos excelling in patient care and ensuring a happy team environment.
In her spare time, you will find Emily at the park with her daughter, Clementine, and her dog, Penelope.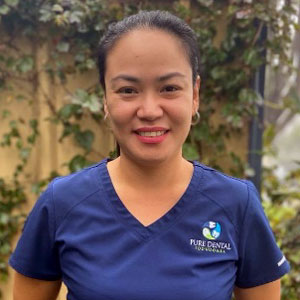 Florence
Florence also known as 'Flo' in the practice, joined our team early this year. She was working previously as an Early Childhood educator before making her career decision to join the dental health industry.
She moved here from the Philippines in 2014. She has a 16-year-old son living in the Philippines but is hoping to have him join her here soon. She was living in Brisbane for a few years until she met her husband, Simon, then she made the move to Toowoomba in 2020.
Her favourite part about being a dental nurse, so far, is the variety of challenges she is faced with daily, and working with Emma-Kate to improve their patient's dental health.
In her spare time, you will see her catching up with friends, going to gym, cooking and making delicious food we've yet to taste!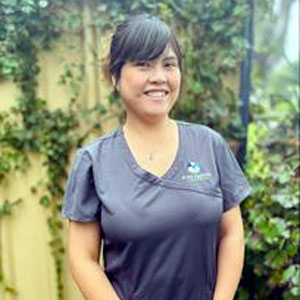 Jell
Jell joined Pure Dental Toowoomba in 2021 following a recommendation from Thea. Jell is an extremely experienced dental nurse and loves her career choice. Jell is currently studying her Certificate 3 and 4 in Dental Assisting.
Jell is from the Philippines and grew up in Toowoomba. Jell has 3 children with her partner, Dakota, so between work and family, she is really busy but still manages to always be smiling. Jell is an asset for any team as she is a positive personality who loves to make everyone around her, feel good.
On her very little spare time she loves to binge watch Netflix TV Shows and crochet!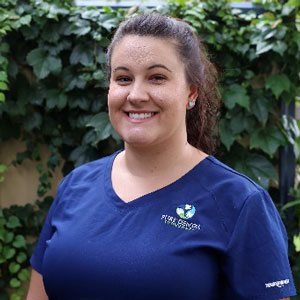 Emma-Kate
Emma-Kate our Oral Hygiene Therapist joined the Pure Dental team in January 2021 after completing her studies in Rockhampton. Emma-Kate has been a dental assistant for 8 years before she decided she wanted to be on the other side of the chair and become a clinician. Emma enjoys all aspects of dentistry but particularly whitening, and introducing children to the dentist in a fun, interactive way.
In her spare time Emma enjoys camping, going to the beach with her dog Ava, surfing and just got married to her partner, Andrew in May 2022.


How Can We Help?
Our experienced and friendly staff is here to help and answer any questions you might have about your dental care. Give us a call today. CONTACT US

Pure Dental Toowoomba | (07) 4646 2512