New Patients
Arranging an Appointment at Our Family-Friendly Practice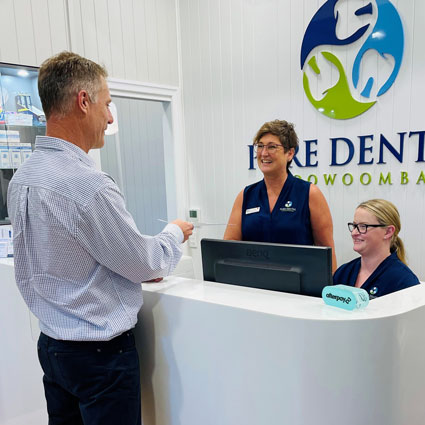 To schedule an appointment with our friendly staff, please give our practice a call. Alternatively, if you schedule an appointment online, a member of our staff will get in touch with you via phone. Our receptionist will then ask you a series of simple questions to determine how we can best assist you on the day of your visit.
Your First Visit
When you or your family arrive at our dental practice for the first time, our receptionist will greet you warmly before inviting you to take a seat in our comfortable waiting area.
Your first visit will take the form of an hour-long consultation with Dr Nicola to talk you through your dental desires, concerns, or questions. Dr Nicola takes this time to get to know each client, as she is then able to produce a personalised treatment plan with their needs and wants in mind. The treatment plan is also a great way to show a client what they can expect in the coming visits, including treatments and costs. Armed with this information, both Dr Nicola and the client can then discuss topics such as payment plans or any other relevant information.
Gaining a Comprehensive Overview of Your Oral Health
In some circumstances, a special x-ray, an OPG, is required that looks at the lower face, teeth, jaw joints and maxillary sinuses. This x-ray is useful to demonstrate the number of teeth as well as their position and growth, and is particularly useful to assess teeth that have not surfaced yet or pathology within the jaw bone.
Dr Nicola will refer you for one of these x-rays, if required.


Payment and Financing
Please bring your health fund card with you when you visit our practice, as we process claims straight away through HICAPS. If applicable, you will only have to pay the gap payment. We also provide further financial assistance through the Child Dental Benefit Scheme (CDBS) and Department of Veterans' Affairs (DVA) and we bulk bill for these patients.
OpenPay
We are now offering a payment plan option through Openpay. Openpay lets you spread the cost of the things you want and need over time, with no hidden fees.
AfterPay
We also offer Afterpay. There is NO minimum spend & you can pay your appointment off over 4 equal payments! Please ask the friendly reception staff for more information.
We are preferred providers for:
Helping Patients Feel Comfortable
Our approach to helping clients with dental anxiety is second-to-none. Clients will instantly feel at ease with Dr Nicola's warm, caring, and friendly personality. Our practice also offers options like sleep dentistry to truly help you relax during your procedure.
Dr Nicola prides herself on non-invasive dentistry and once you visit us for the first time, you'll find it a lot easier to entrust your smile with our highly-competent and experienced team.

Pure Dental Toowoomba | (07) 4646 2512